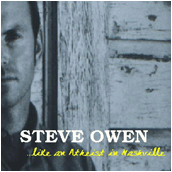 visit the Steve Owen's home page
www.steveowen.com
STEVE OWEN
Like an Atheist in Nashville

Steve Owen is an original American storyteller with a voice like a smooth stone, a chronicler of the strange and obscure details that make up ordinary life. "...like an Atheist in Nashville" (with all the outsider charm that the name implies) is his best record yet.

Song List
1. Standing Still
2. Comfort
3. The Ballad of Wendell T. Phillips
4. Gin & Mountain Dew
5. Sing Me no Love Songs
6. Who's Gonna Buy Me a Beer?
7. Room for Rent
8. Mud
9. Hangover?
10. Gravedigger
11. Flatlander's Lament
12. I'll be Home for Christmas

BUY NOW!

---
press/info
| shows
| booking
| contact